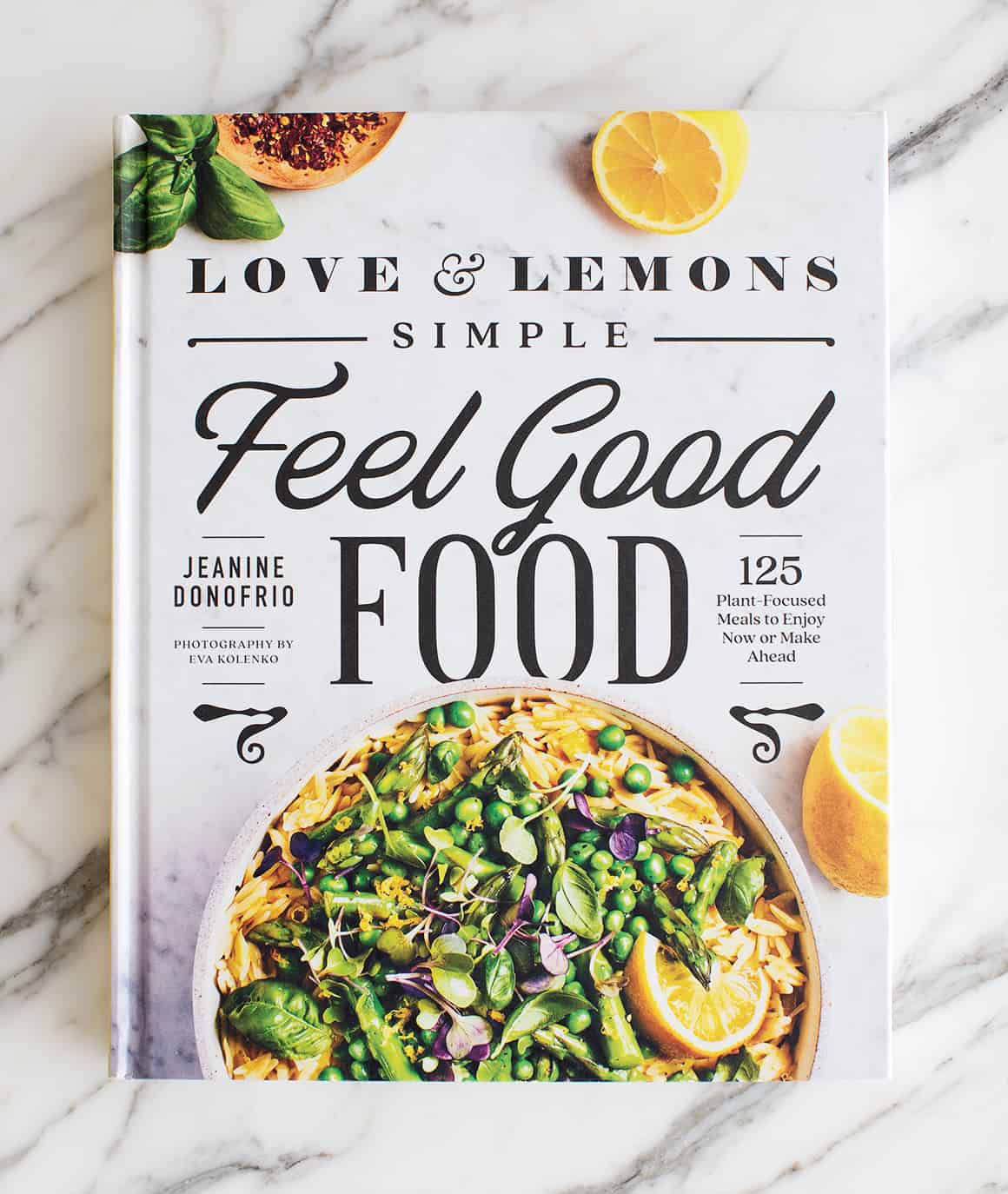 Hey friends, exciting news! We wrote a new cookbook! Love & Lemons: Simple Feel-Good Food comes out this spring on April 25, and it's now available for preorder!
But first, I want to THANK YOU! Simple Feel-Good Food wouldn't have come to be without readers like you. As I've chatted with you over the years and responded to your questions, comments, and recipe requests, I've noticed that…
Some of you love easy recipes that you can make right now, while others of you love recipes that you can make ahead.
I wrote this cookbook with these two types of cooks in mind.
Half the recipes are "at-the-ready" recipes, which are easy to make with on-hand ingredients.
The other half are "in advance" recipes, which you can prep ahead. It also includes 8(!) 3-day meals plans, where components from one day flow into the next.
My hope is that they'll make your mealtimes simpler, fresher, and more delicious.
The book is organized into sections by meal type:
Breakfasts – Quick Weekday Breakfasts and Meal Prep Breakfasts
Salads – Simple Toss-Together Salads and Sturdy Packable Salads
Soups – One-Pot Soups and Soups with Homemade (vegetable scrap) Broths
Dinners – Easy Mains, Sheet Pan Dinners, Make-Ahead Meals, and 3-Day Dinner Plans (seriously so many dinners in this book!)
and Desserts – Easy Desserts and Make-Ahead Desserts
All the recipes are vegetarian, and over 100 are vegan or have a vegan option!
Some of our favorite recipes include
Savory Chickpea Waffles – Topped with tahini yogurt and fresh veggies, these falafel-inspired waffles are such a filling breakfast!
Coconut Slaw with Spicy Peanuts – It's crisp, it's aromatic, and it packs up perfectly for picnics and lunches.
Butternut & Thyme Galette – A nutty, buttery pastry encloses the tender squash and herbs. It will make your kitchen smell AMAZING!
Sweet Potato Paneer Burgers – No offense to other veggie burgers, but these ones are officially THE BEST I've eaten.
Strawberry Polenta Cake – It's moist, tender, and lemony. Just what every spring/summer celebration needs.
The book is also packed with Love & Lemons graphics and charts.
The Guide to Grain Bowls (above) is in the salad section, and the Mix & Match Tahini Cookies (below) are in the dessert section!
And they're just two of many charts in this book! There are so many other fun features that I can't wait to share with you.
I'm so grateful for your support, and I can't wait to share this book with you!
Our Previous Books: The Love & Lemons Cookbook and Love & Lemons Every Day

While I love all the recipes that I post here on the blog, some of my all-time favorites are actually in my cookbooks: The Love & Lemons Cookbook and Love & Lemons Every Day. Both best-selling books are packed with 100+ vegetarian recipes, gorgeous photography, and resources to help you become a home cooking pro!
So often, readers ask me which cookbook they should get. Below, you'll find details about both recipe books to help you pick the one that's best for you. If you're still having trouble deciding, I can assure you that you really can't go wrong! Bon Appétit hailed The Love & Lemons Cookbook as "the most beautiful cookbook we've ever seen," and The New York Times Book Review wrote, "Happiness itself is tossed into every bowl." In 2019, Love & Lemons Every Day was a Best Spring Cookbook pick by both The New York Times and MindBodyGreen, and food writer and TV host Gail Simmons said that it "makes cooking every day a true joy."
Here's a little about both books:

Love & Lemons Every Day Cookbook
My most recent book, Love & Lemons Every Day is a big, beautiful, 300+ page book, a must-have for everyday plant-forward cooking! Organized by meal type, it has chapters for Breakfasts, Snacks & Starters, Soups, Salads, Dinners, Side Dishes, Desserts, and Drinks. Here's more detail about what's in it:
100+ super flavorful vegetarian recipes. You'll find recipes fit for any and every occasion – busy mornings, special occasion dinners, and everything in between.
Vegan and gluten-free variations. If a recipe isn't already vegan or gluten-free, I nearly always include a suggestion for how to adapt it.
Handy cooking resources. Find a giant grid of 5-ingredient salad dressings, a chart on how to roast or grill nearly any vegetable, a guide to using common veggie scraps in the kitchen, and basic guidelines for cooking pantry staples like rice and lentils. Confession: I actually refer to my own book when I'm cooking grains and meal planning at home!
Fun & flexible recipe charts! Learn the Anatomy of a Snack Board or 6 simple ways to scramble eggs. Find 5 flavorful weeknight pastas, Fruit Crumbles, 4 ways, and more!
Who would love this book?
If you're looking for an all-in-one resource for vegetarian cooking, this book is the one for you. You'll learn how to master the basics, like salad dressing and vegetable stock, in addition to making bold entrees and delicious desserts.
Our Favorite Recipes:
Loaded Butternut Squash Queso, Tomatillo Zucchini White Bean Chili, Cauliflower Steaks with Lemon Salsa Verde, Creamy Sweet Corn Pappardelle, and Flourless Almond Chocolate Chip Cookies.
Check out this post for even more about the cookbook!
Here's where to buy Love & Lemons Every Day:
(You can also buy it at local bookstores throughout the U.S and Canada.)
U.S.
Amazon  /  Barnes & Noble  /  Indiebound
Canada:
Chapters Indigo  /  Amazon.ca
International:
Book Depository

The Love & Lemons Cookbook
My first book! The biggest difference between it and Love & Lemons Every Day is that The Love & Lemons Cookbook is organized by vegetable (or fruit) from A-Z. Instead of finding a breakfast or dessert chapter, you'll find one for Apples, Tomatoes, Winter Squash, and more! Here's what else is in it:
100+ plant-forward recipes. Because this book is organized by vegetable, it's a great resource for showcasing your farmers market finds. Need ideas for how to use that gorgeous bunch of carrots or bushel of tomatoes? This book has them!
Mix & Match Recipe Charts! These colorful grids offer fun flavor variations for kitchen basics like pesto, hummus, and fruit smoothies.
Tips for cooking with what you have. The opening of the book is all about how to cook with the veggies you have on hand. Find my best advice on seasoning them, plus my go-to meal ideas when I need to whip something up on a weeknight.
Lots of vegan and gluten-free options. Like in Love & Lemons Every Day, if a recipe isn't already vegan or gluten-free, I almost always tell you how to change it. (All the recipes are vegetarian.)
Who would love this book?
This book is for the vegetable lovers in your life, the people who love to head to the farmers market and cook with whatever catches their eye that day. It's also wonderful for anyone who needs quick and simple recipes. They all have short ingredient lists, and making them is straightforward, but they still pack a huge punch of flavor!
Our Favorite Recipes:
Cauliflower Tacos with Chipotle Cream, Creamy Miso Brussels Sprout Fettuccine, Eggplant & Mushroom Meatballs, and Double Chocolate Zucchini Muffins.
Here's where to buy The Love & Lemons Cookbook:
(You can also buy it at local bookstores throughout the U.S and Canada.)
U.S.
Amazon  /  Barnes & Noble  /  Indiebound
Canada:
Chapters Indigo  /  Amazon.ca
International:
Book Depository
A Favorite Cookbook Recipe: Vegan Chocolate Cake
Ingredients
Sweet Potato Frosting
1

large sweet potato

,

enough to yield 3/4 cups mash

1/4

cup

plus 2 tablespoons semisweet chocolate chips

2

tablespoons

unsweetened cocoa powder

1

tablespoon

melted coconut oil

pinch

of sea salt
Instructions
Make the sweet potato frosting: Preheat the oven to 425°F. Use a fork to poke a few holes into the sweet potato. Place on a baking sheet or on a piece of foil and roast until very tender, about 60 minutes. Let the potatoes cool slightly, then measure 3/4 cups of the soft flesh. In a (small) food processor, puree the sweet potato, chocolate chips, cocoa powder, coconut oil, and salt. The heat of the sweet potato will melt the chocolate.

Make the cake. Reduce the oven heat to 350°F and grease an 8x8 baking pan.

In a large bowl, stir together the flours, cocoa powder, baking soda, salt, and cinnamon. To the same bowl, add the almond milk, maple syrup, olive oil, apple cider vinegar, and vanilla. Stir until combined.

Pour the batter into the prepared cake pan and bake for 25 to 30 minutes, or until the top of the cake springs back when pressed or a toothpick inserted in the center comes out clean. Place the pan on cooling racks and cool for 10 minutes.

Gently loosen the sides of each cake with a knife. Remove the cakes from the pan and place back on the racks to cool completely. Frost the cake and serve!